START YOUR SIDE HUSTLE COURSE
The ONLY online course you need to start a side hustle and turn it into a profitable career in 90 days.
In the post COVID-19 world, the message from the universe is loud and clear. There is no better time than now to start working for yourself from the comfort of your own home using just your laptop and the internet!
RAISE YOUR HAND IF YOU WANT TO..
work from anywhere in the world and make a significant income by doubling down on your passion!
 build multiple income streams and work on exciting projects with global clients!
travel wherever you want without caring for office leave policies and asking for your boss's permission!
make a powerful impact and inspire others to work for a bigger cause instead of being stuck at a job you don't like!
spend most of your precious time with your family, while still be able to support them financially.
build your office anywhere you like (read: your own home) with just a laptop and ready access to the internet.
If you rasied your hand for all of the above, then we get that you want to work for yourself! 🙂

BUT….here's a word of caution: While working for yourself sounds like an absolute dream, the road leading up to it is full of challenges. You need the right support, guidance, training, and community to make it big.
START YOUR SIDE HUSTLE COURSE
Start Your Side Hustle Course is a carefully crafted online program made especially for ambitious people like you who're looking to discover their passion and turn it into a profitable and scalable side hustle.
Our mission is to help you find your voice, discover your own unique superpowers, and use them to make a mark for yourself in the world.
We've already helped 6000+ people on this journey, and we want you to be our next success story! 🙂
Our curriculum is divided into 3 sections to ensure that you get well-rounded exposure as well as the right blend of courses and coaching to level up your online business game!
SECTION 1 : NICHE CLARITY AND FOUNDATION
The Foundation is your business 101 course. Think of it like a mini- MBA that prepares you to find your passion and helps you grow your hustle in a BIG way. This will be the first thing that you'll cover inside the academy.
Module 1: Finding Your Niche
Discovering Your Passion
Finding Your Dream Hustle
Personal Goal Setting
Drafting Your Business Plan
Module 2: Finding Your Customers
Building Your Customer Profiles
The Problem & Your Solution
Ideal Marketing Channels
Your Social Media Plan
Understanding Your Customer Journey
Module 3: Growing Your Revenue
Defining Your Revenue
Productizing Your Services
Pricing
Build Your 1 Year Financial Plan
Business And Finance Essentials
Module 4: Building Your Routine
Minimizing Your Distractions
Introduction to Trello
Introduction to Toggl
Introduction to Google Calendar
Module 5: Cracking The Next Level
Building Your Team
Personal Branding
Thought Leadership
SECTION 2: POWER UP COURSES
Power Ups are power-packed action-oriented, skill-based courses that will help you kick-start the side hustle of your choice.
Power-Up 1:  How to launch your own Online Course ( 12-Lesson Course)
Power-Up 2:  How to Become a Highly Paid Freelance Content-Writer (16-Lesson Course)
Power-Up 3: How To Become A Successful YouTuber (23-Lesson Course)
Power-Up 4:  How to Become a Highly Paid Blogger Even Today (22-Lesson Course)
Power-Up 5:  How To Grow on Instagram As An Influencer (16-Lesson Course)
Power-Up 6: How To Become an Email Marketer (16-Lesson Course)
Power-Up 7: How To Build A Website For Your Side Hustle (12-Lesson Course)
Power-Up 8:  How To Launch Your Own E-Commerce Store (10-Lesson Course)
Power-Up 9:  How To Make Money By Selling Digital Products (12-Lesson Course)
Power-Up 10:  How To Launch A Successful Podcast Show (18-Lesson Course)
Power-Up 11:  How To Become A Public Speaker And Land Speaking Gigs (15-Lesson Course)
Power-Up 12: How To Unleash The Power Of LinkedIn To Find Clients (12-Lesson Course)
Power-Up 13: How To Become A Six-Figure VA (14-Lesson Course)
Power-Up 14: How To Become A Six-Figure SMM (16-Lesson Course)
SECTION 3: LIVE ENGAGEMENT
Live Engagement sessions are an essential part of the academy. While the Foundation and Power Ups are pre recorded; live sessions are a way for members to come together and engage with Saloni and other leaders.
There are 5 main types of live engagement that happen inside the academy:
1:1 Coach: As soon as you join our academy, you will be assigned a 1:1 coach who will be personally involved in your growth. You can always reach out to her for assignments, reviews, personalised time-tables, mindset issues, and anything else. She'll be your go-to person inside the academy so that you never feel alone on this journey.
Mentorship Hours With Saloni: Weekly Office Hours are a way for members to get their problems answered by Saloni herself. Thrice a week, you will get undivided attention from Saloni, who will conduct group calls with students and will speak personally with anyone who has any doubts with their side hustle.
Support Coach Calls: Support Coach Calls are conducted by our academy's dedicated support coach, who will hear you out weekly, answer all your questions, and give you live trainings on anything you need help with at all. 
Coffee Chats: This program already has 6000 students inside it, and many of our students are experts in various fields.  Therefore, we conduct bi-weekly Coffee Chats to facilitate learning among students as well.
Guest Webinars: Once a month, we also invite guest speakers and industry experts to conduct live sessions for our students on topics of relevance. We've had some of the biggest names in the industry come and teach our students, so this is a great value-add for all our students.

HEAR WHAT OUR STUDENTS HAVE TO SAY ABOUT HPA
Thanks to HustlePost Academy, I'm now a proud corporate escapee. I was working in a leading MNC, but I was always a creative person and wanted to build a career around my passion. Now, I work as a VA, SMM, and Email Marketer for Indian and international clients and HPA has had a big role to play in my success. Thanks to this course, I now make INR 80,000 per month consistently.
After joining HPA:
– I was able to quit my job
– Build a stable life coaching business
– And earn 3 times my high-paying salary consistently every month, while still having my job.
I'm so happy that I'm now starting my entrepreneurial journey full-time. It wouldn't have been possible without joining HPA, and I'm so thankful for it.
After joining HPA, I discovered my passion for marketing and started social media marketing for clients. And now, I also take clients for video editing, copywriting, website design, etc. I am not financially independent and have reached the mark of earning 1 lac per month with my passion. I feel so good about myself and it's all thanks to HPA.
"I've been a part of HPA  since its inception in May 2020. While I had a great idea and I knew how to get clients, I wasn't able to start my business until I joined HPA.  I now make a revenue of more than 1 lac per month, while still being a college student. Saloni has helped me get over my limiting beliefs and helped me build the much-required foundation for my business. She simplifies everything inside all her courses and programs that you can just get started as soon as you learn. Needless to say, this is a one-stop destination if you are serious about starting your side hustle and scaling to six figures!"
"I bagged 3 clients within 10 days of joining HustlePost Academy's Start Your Online Business course for content writing services along with my full-time job. I now have a stable income of a side hustle and pretty soon I would be able to quit my job to pursue writing full time.
A big thanks to HustlePost Academy for making this happen".
"I was already a content writer but was working with low pay. After joining HustlePost Academy's Start Your Online Business course, I have increased my pay scale. I got 2 new clients with good pay after joining HPA. I also launched my own website, which is the most exciting part for me. HPA has been the first step towards my entrepreneurial journey and I am glad that I chose the best mentor to guide me throughout".
Remember: When you join HustlePost Academy, you aren't getting dumped into some dusty old online course with pre-recorded videos. We will help you with strategies at every step of the way. Therefore, we have a host of bonuses that we offer to keep you learning and growing with us all year round!
Co-working sessions with Saloni herself to increase your productivity and efficiency.
Monthly webinars and masterclasses with guest speakers and industry leaders.
Weekly group coaching calls with Saloni to solve all your burning doubts and queries.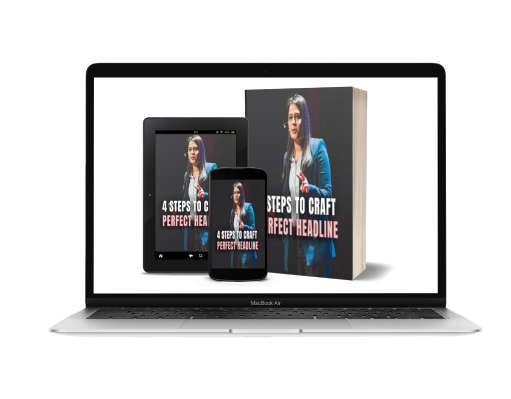 Workbooks, PDFs, Swipe Files, Checklists, and other plug and play resources for you.
Private Facebook Group with fellow students and community members to network with.
Email support from Saloni and her team of support coaches to keep your learning going.
SALONI SRIVASTAVA
TEDx Speaker | Multiple 7 Figure Entrepreneur | Popular Youtuber
Saloni spent her entire life doing things differently from what was expected of her.
When the entire world wanted her to keep rising the corporate ladder and continue to work on her full-time, high-paying job, Saloni decided to quit and start her own online business journey.
Today, Saloni is a well-known YouTuber, a TEDx speaker, and the founder of multiple online ventures including India's first e-commerce platform built especially for influencers- 'Upfluen'.
After having built so many businesses of her own, Saloni decided to share her knowledge with aspiring content creators and online business owners all around the world. And thus, HustlePost Academy was born.
THEY DID IT, AND SO CAN YOU!
Harshi Jain
Makes INR 60,000/- per month as a college student
I had only worked with one client prior to joining HPA. But, today, as a 20-year-old college student, I work with about 25+ repeat clients and I am earning INR 60,000 per month. Life has been completely transformed since I joined this academy.
Aditi
Runs a six-figure marketing agency while being an amazing mother to her son
I founded Social Unicorns, a digital agency, after many years of experience in the media industry, and now I'm able to build a workplace that I dreamed of having during my corporate days. HPA gave me the roadmap to gorw and scale with ease.
Mansi Chowdhury
Makes 80,000/- per month as a writer
I didn't even think I could make this much money doing what I love before HPA gave me the confidence to pursue a writing career. I can't put into words the great value and knowledge that the HPA course brought me. I'm now also about to sponsor my brother's education while I'm still a student.
Mudrika Mishra
Makes 70,000/- per month while taking care of her kid
With the help of HPA, I've come to understand that I don't need a 9 to 5 work to be financially independent. I was able to transition my side gig into a full-time career one year after enrolling in the HPA course. 
Tamannah
Makes 70,000/- per month while still in college
Within three months of joining HPA, I began charging high-ticket for projects. Now, I and a few of my friends have formed a company called Ziti Marketing that specializes in digital marketing. My current monthly income is 70,000 INR, and we expect it to reach 1 lac INR by the end of the following month.
So, Are You Ready To Turn Your Passion
Into A Profitable Side Hustle?
One Time Payment For 1 Year : INR 9997/-
  1. One year inside HustlePost Academy
  2. One year access to Facebook Group
  3. Weekly group calls with Saloni
  4. Monthly goal setting sessions
  5. Monthly webinars and master classes
  6. Weekly live co-working sessions
  7. Monthly coffee chats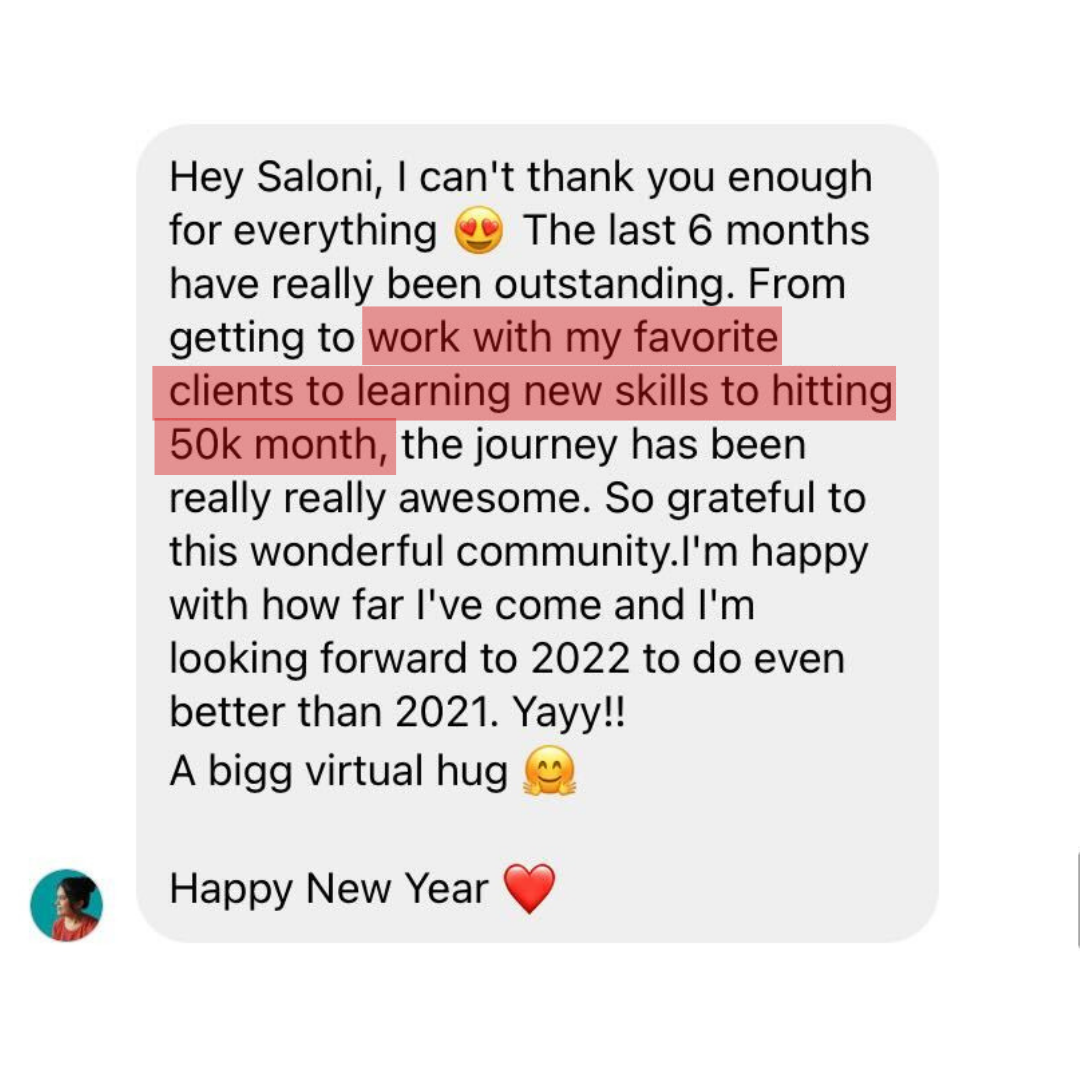 LIABILITY DISCLAIMER: By reading this website or the documents it offers, you assume all risks associated with using the advice given, with a full understanding that you, solely, are responsible for anything that may occur as a result of putting this information into action in any way, and regardless of your interpretation of the advice.
Terms of use | Earning Disclaimer | Privacy Policy | Refund Policy
© HustlePost Academy 2020 – All Rights Reserved | © 2020 ALL RIGHTS RESERVED